Below is my list of top SEO tools to carry out a SEO website audit (otherwise known as a technical audit):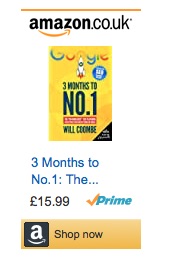 Content related audit
Test hotlink protection

Siteliner duplicate content finder
The Siteliner tool is a free service to audit your website to identify duplicate content, broken links, etc.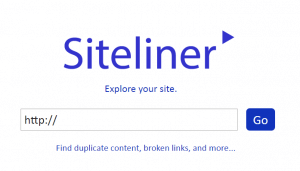 Free plagiarism-checker
http://www.seotooltracker.com/free-plagiarism-checker
By copying and pasting a block of content into this tool, it will tell you if there are complete sentences that are not original, this tool will identify the original source or plagiarized content that was copied from the internet.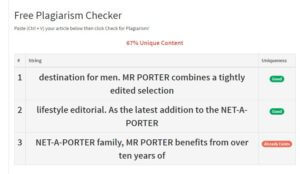 Pentest-tools – find-subdomains
https://pentest-tools.com/information-gathering/find-subdomains-of-domain?run
Tool to find sub-domains connected to the domain you need to do an audit. This can be useful for identifying duplicate content even if they are not indexed in the search engines.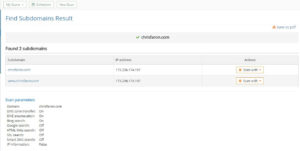 BLOG POST Headline Analyzer
http://coschedule.com/headline-analyzer
This free tool checks your blog post headline and offers feedback on how it can be improved. It checks your word balance by carrying out an analysis of the overall structure, grammar, and readability of your blog headline. It highlights your keywords in percentages by Common, Uncommon, Emotional and Power. The length analysis checks for the optimum character length and word count. Lastly, it shows your headline sentiment. Headlines that are neutral generally perform less that a strong positive or negative emotions.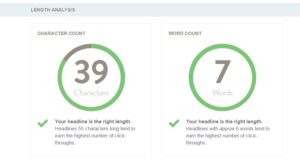 Check grammer mistakes
Grammarly
ChangeDetection.com
https://www.changedetection.com/
A website monitoring tool to audit and track changes being made to content.
Reverso
www.reverso.net/spell-checker/english-spelling-grammar/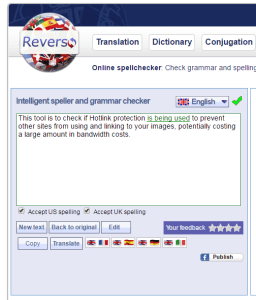 UberSuggest
Generates a list of keywords downloadable in excel csv format. Also generates a pretty cool looking word cloud based on the list keywords.
Answerthepublic
Check SEO related queries which users are searching for. It is a really great tool that is also free!,  which can help you with SEO and Content opportunities/strategies, the data is getting pulled from google suggest and related searches. You can then segment by the question prefix, e.g. how, what, why, when etc. More useful for finding content ideas and topics to write around.
Web developer checklist
A checklist when building a web site including links to many tools. Also available as a Chrome browser extension.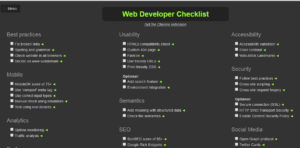 Google Web developer checklist
An audit tool (at URL level) to learn how your site is performing based on modern web standards. It checks how safe your site is, how fast your page is, accessibility, SEO optimisation and other best practices.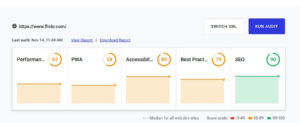 Audit your website loading speed
Test my site (thinkwithgoogle.com)
https://testmysite.thinkwithgoogle.com/
Test a web site to see out it performs on a mobile and desktop device. There is a speed test score with recommendations on how to fix them.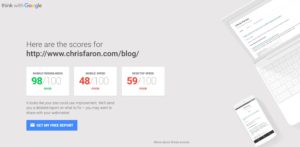 PageSpeed Insights
https://developers.google.com/speed/pagespeed/insights/
PageSpeed Insights analyzes your web page to see how fast it loads in a Desktop PC or mobile device. It then generates suggestions to make that page faster.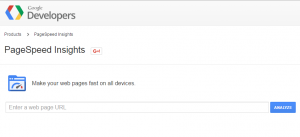 Blisk.io
Really good tool for device emulation if you are performing a page speed audit across devices.
Functions the same as Google Dev Tools emulation but is a lot faster for quick checks.
Varvy mobile tester
Test the speed of your web page with a mobile device.

Googleweblight
http://googleweblight.com/i?u=https://www.chrisfaron.com/blog/
See your web page transcoded into a Web Light version by Google. You can preview it using a browser or using the Mobile emulator with Chrome.
Cdnplanet
https://www.cdnplanet.com/tools/cdnfinder/
Check the  names of all the Content delivery networks (CDNs) they are being utilized on either a specific URL or host name.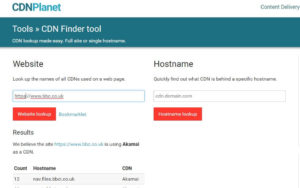 Bytecheck
This tool also is for auditing your web page when in initially loads in the users browser. You can test out the time to receive the first byte to work out how fast your hosting is compared to other sites.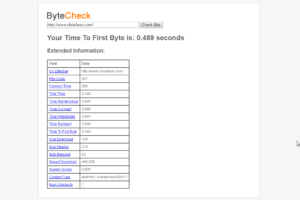 Recordit.co
Program for Mac & windows to record your navigation across a site. Ideal for showing to clients where improvements could be made the the web sites UX.
Pageweight imgix
https://pageweight.imgix.com/
Checks your current image weight footprint and offers recommendations to optimize them better. It also offers a comparison bar chart of how your site compares to other ones.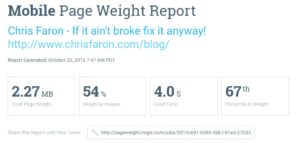 Tinypng
https://tinypng.com/
TinyPNG is a free online tool that uses smart lossy compression to reduce the file size of your PNG images. It works by selectively decreasing the number of colours in the image uploaded to reduce the file size. The output effect is nearly invisible but it makes a very large difference in image file size.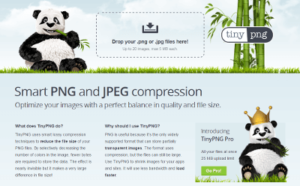 Squoosh
https://squoosh.app/
Free online tool to compress and compare images with different codecs, ideal to reduce page speed without comprising quality.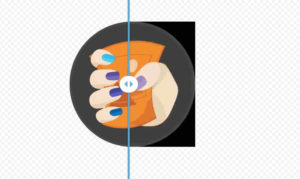 Gift of speed cache checker
https://www.giftofspeed.com/cache-checker/
This free tool checks the caching settings on the server configuration and displays which files are cached by your visitor's browser (and how) and which aren't.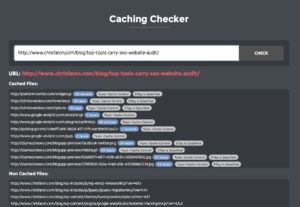 Websiteplanet Robots.txt checker
https://www.websiteplanet.com/webtools/robots-txt/
Check the accuracy of your robots.txt for free. It gives you a report of errors and warnings. Some of the warnings I'm not sure about like "Sitemap support is not considered "Best Practice", despite the fact that Google and Bing support it"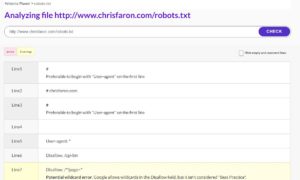 hilite.me
http://hilite.me/
Converts your HTML code snippets into pretty-printed HTML format, which is great when you need to show HTML snippets when creating your SEO audit. Just copy the source code to the left pane, select the language and the color scheme, and click "Highlight!".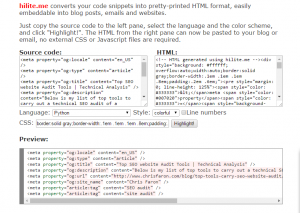 Robots.txt Test Tool
https://en.onpage.org/free-tools/robots-txt/
Test if your web content can be accessed by major search engine crawlers. You can change the user-agent to: Googlebot, Googlebot (Bilder), MSNBot, Yahoo Slurp, Lycos, Seekbot, Sistrix, SearchmetricsBot, BacklinkCrawler, SEOKicks and Xovi.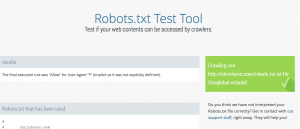 Matt kersley Responsive Web Design Testing Tool
http://mattkersley.com/responsive/
This free online tool has been built to help with testing your responsive websites to make sure the design is viewing ok in different screen sizes. You can enter your website's URL into the address bar at the top of this page (not your browser's address bar) to test a specific page.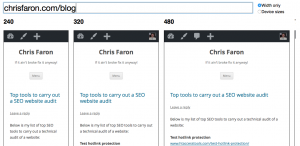 Dirty Markup
A web-based interface to tidy up your HTML, CSS, and JavaScript code.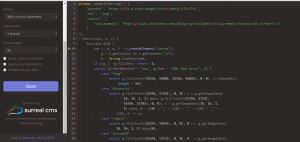 Structured-data
Google structured data testing-tool
https://search.google.com/structured-data/testing-tool/u/0/
Check the validity of your structured data. You can either enter the live URL or enter your code snippet if it is still not live yet.

Linter structured-data audit tool
http://linter.structured-data.org/
Enter a URL in the text field to see what structured data your page contains and check the output is correct. Example structured data can be: Review ( RDFa MD ) People ( RDFa MD ) Event ( RDFa MD ) Recipe ( RDFa MD ) Product ( RDFa MD ).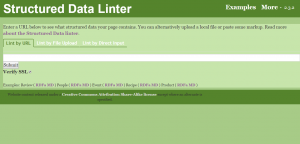 SON-LD Schema Generator
https://hallanalysis.com/json-ld-generator/
With this free tool you can generate JSON-LD code for any page on your web site.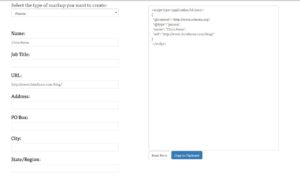 Schema.pythonanywhere
https://schema.pythonanywhere.com/
Online schema generator. Just choose the Schema type and fill out the fields to have a generated Schema in Microdata, RDFa or JSON-LD format.
Google SERP Preview Tool with rich snippets
http://www.webtoolhub.com/tn561431-google-serp-snippet-preview.aspx
A SERP optimization tool to preview (replicate) how your listing will look in Google search results with the option to add Rich snippets & star rating.

Opengraphcheck
Test online your Open Graph Tags for Facebook, Google+ and Linkedin. Â Get an overview of the valid implemented tags.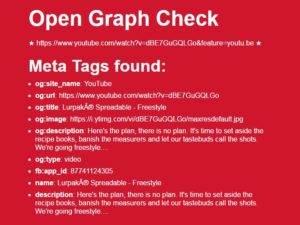 Facebook Developers debug tool
https://developers.facebook.com/tools/debug/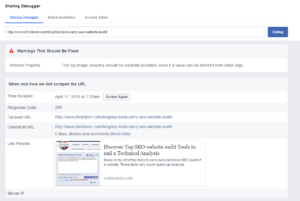 AMP Validator Web Tool
https://validator.ampproject.org/
Validate your AMP pages are marked up correcty and is also a web validator, similar to the structured data testing tool.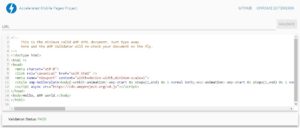 AMP Demo
Live demo where you can try searching for virtually anything to see how AMP pages can provide a faster searching and reading experience on the mobile web. To view the demo for Accelerated Mobile Pages in Google Search, you need to open the link above on a mobile device.
Wordle
For presenting "word clouds" in your audit, this can really improve the visual impact of reports to clients.
Jeffrey's Image Metadata Viewer
Shows the full meta data of an image (either online or uploaded). For each image this tool shows: File Size (in kb), File Type, File Type Extension, MIME Type, Animation, Bit Depth, Color Type, Compression, Deflate/Inflate
Filter, Image Size, Interlace, Pixels Per Unit X & Y and Pixel units. Extra functionality is enabled when you use Firefox or another Gecko-based browser.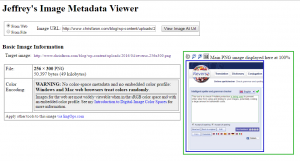 HEAD resource
https://github.com/joshbuchea/HEAD
A collection of HTML head elements that are currently used by the major browsers. There is also a list of elements which are either deprecated or not supported anymore. The list includes the following elements: Meta, link elements, favicons, Social Facebook / Open Graph, Twitter cards, Google+ / Schema.org, Apple iOS, etc.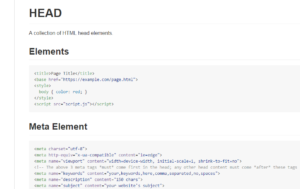 Server configuration
Reverse IP Domain checker
http://www.yougetsignal.com/tools/web-sites-on-web-server/
A reverse IP domain check takes a domain name or IP address pointing to a web server and searches for other web sites known to be hosted on that same web server. This tool is useful for seeing if there are any poor quality/spam sites be hosted on the same IP address.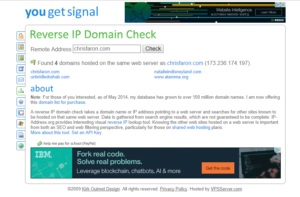 Viewdns
Many SEO tools in one connected to the DNS of the domain you need to audit.
– IP History
– Reverse Whois Lookup
– DNS Propagation Checker
– Reverse NS Lookup
– Port Scanner
– Nameserver check
– IP Location Finder
– Check whether a site is accessible in Iran or China
– Get HTTP Headers
– Domain / IP Whois
– DNS & Reverse Record Lookup
– ASN Lookup
– Traceroute
– URL / String Decode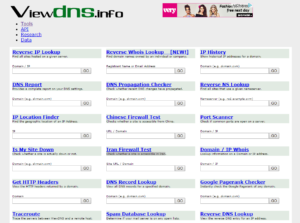 CIDR to IPv4 Conversion
CIDR is short for Classless Inter-Domain Routing, an IP addressing scheme that replaces the old system based on classes A, B, and C.
https://www.ipaddressguide.com/cidr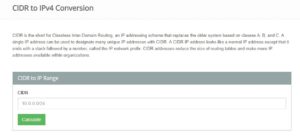 DNS Reverse Lookup in Excel
https://protocolsyntax.wordpress.com/2012/12/04/dns-reverse-lookup-in-excel/
Performing a reverse DNS lookup on an IP address (vital to verify that someone saying they are GoogleBot is actually GoogleBot.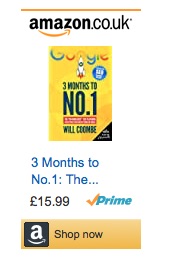 Favicon checker
https://seositecheckup.com/tools/favicon-test
With Google now showing your websites favicon image in the mobile search results, it is important you check the presence and how your favicon appears to users. This free tool will show you the checks that passed, have warnings or failed ones.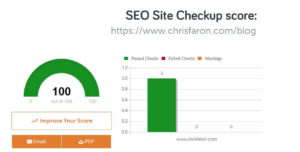 HTTPS related tools
SSL server tester
https://www.ssllabs.com/ssltest/
SSLshopper ssl-checker
https://www.sslshopper.com/ssl-checker.html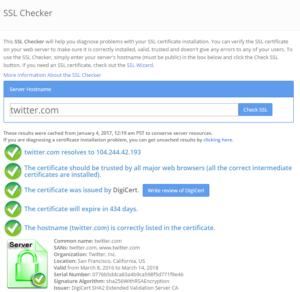 Geocerts ssl_checker
https://www.geocerts.com/ssl_checker
This free SSL Checker will check for problems with your SSL certificate installation, if your certificate is correctly installed, valid, and whether or not it is supported by major web browsers.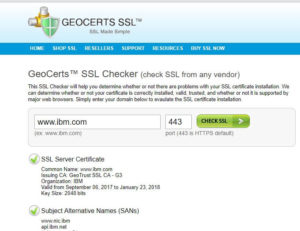 SSL non secure content checker
https://www.jitbit.com/sslcheck/
Websecurity symantec ssl-checker
https://www.websecurity.symantec.com/support/ssl-checker
Check your website for Chrome distrust.
HTTP/2 Test
https://tools.keycdn.com/http2-test
Verify if your server or CDN supports HTTP/2.
Personal Blocklist and export sub-domains
Google plugin to block and export sub-domains. When looking for duplicate content, it's often important to know how many sub-domains exist and are indexed by Google.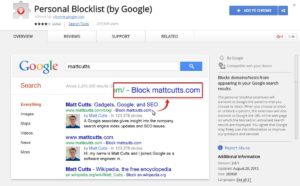 XML Sitemap validator
https://www.xml-sitemaps.com/validate-xml-sitemap.html
Check your XML sitemap(s) conform the the standard outlined in http://www.sitemaps.org/protocol.html
XML Sitemap generator
https://technicalseo.com/seo-tools/xml-sitemap/
Free tool to generate an XML Sitemap with alternate (media and/or hreflang) tags based on an Excel (.csv) document template.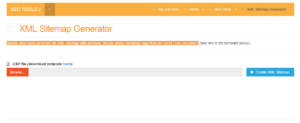 Hreflang tools
Hreflang tester tool
www.sistrix.com/hreflang-guide/hreflang-validator/
Tool from Sistrix to validate the rel="alternate" hreflang="x" link-attribute to make sure that Google can identify the correct geographical focus for your websites and show the correct language version or regional URL for your content. The Hreflang tester tool will check all the hreflang link-attribute markup for the multi-language content on your website.

SEO hreflang tag testing tool
https://technicalseo.com/seo-tools/hreflang/
Validate hreflang tags on a single live page.
Hreflang tags generator tool (Aleyda Solis)
https://www.aleydasolis.com/english/international-seo-tools/hreflang-tags-generator/
Hreflang tags generator tool for generating or modifying hreflang tags.
Hreflangs.com
Check your hreflang tags with different search engine user agents (currently; Googlebot, Bing-bot and Yandex).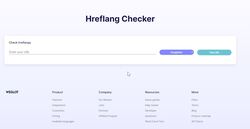 DNS Dumpster
Tool to find hosts related to a domain. It can be really useful to see all the sub domains active and maybe advise on which ones could be removed or moved to the main domain. The results of the analysis can be seem in a visual graph or exported in Excel.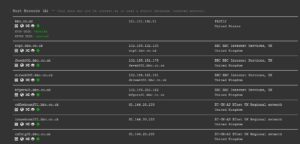 Auditing JavaScript web sites
Bing mobile friendiness test tool.
https://www.bing.com/webmaster/tools/mobile-friendliness
This free tool from Bing will analyze your web page and tell you whether it is mobile friendly or not and also if it is rendering correctly.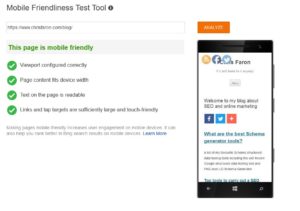 Whatcms
WhatCMS.org can detect 142 different CMS applications and services that the site is using.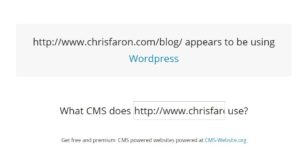 Seobook robots.txt analyzer
http://tools.seobook.com/robots-txt/analyzer/
Enter URL of your robots.txt or paste it's contents in the box below it and the tool will test your robots.txt to see if you are blocking any content from being indexed in the search engines.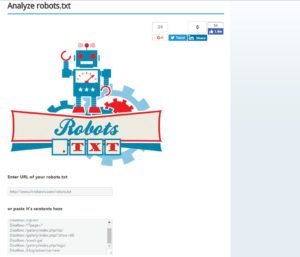 Rex Swain's HTTP Viewer
http://www.rexswain.com/httpview.html
See exactly what an HTTP request returns to your browser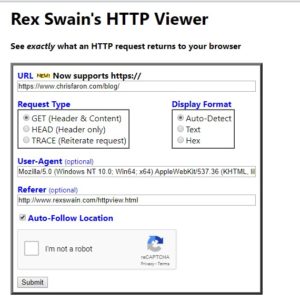 Securityheaders.io
Tool to check your server headers. It gives you a vote and tells you which headers are missing.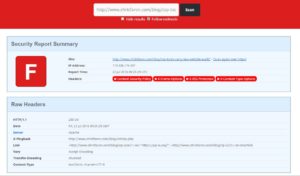 HTTP Field checker
httpstatus.io
Bulk check server status codes, ideal for checking chain redirects. You can customise the user-agent to be a browser or Google-bot for example.
Timer4web

This tool checks many aspects of the domain including: relationship with other sites (via the same IP address, Adsense publisher number and Analytics tag),
Connections IP & Reverse IP, Redirections, Reverse Google Analytics checker, Reverse Google Adsense check, Whois Content Frontend & Backend, Security Check Robots.txt, File Popularity, Social networks connected to domain and Google Page Rank.
Unsample Google Analytics Reports
A free tool that unsamples Google Analytics reports in seconds.
http://tools.beamusup.com/unsampler/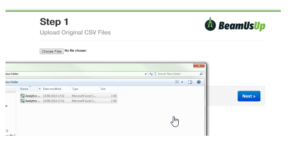 Disavowfiles
Free crowdsourced tool to find out if you have back-links that others have disavowed or find out if another site has your pages in their disavow file. You can submit your disavow files to help increase their database.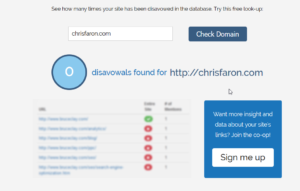 Xidelcgi
http://videlibri.sourceforge.net/cgi-bin/xidelcgi
Free open source tool to help test XPath queries more visually than by crawling and testing through Screaming Frog.
You can also test using Chrome in the element panel, but the tool below helps by showing all results extracted, rather than just highlight them in yellow when they're found/match.
Visualping
Visualping is a free website checker for webpage change monitoring and website change detector. When the tool detects visual webpage (or even robots.txt) changes and send alerts via email or Slack team notification for competitive monitoring.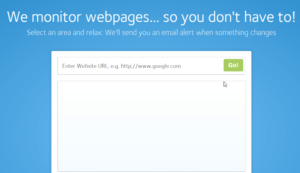 CodeSEO
https://codeseo.io/google-chrome-seo-without-a-plugin/
Cover many SEO tasks that can be handled via plain Google Chrome (Inspect element > Console). It covers the main Google search operators, Javascript console code, etc.
Sucuri
https://sitecheck.sucuri.net/results/www.chrisfaron.com
Check if a web site is blacklisted, contains malware or is trusted.
Talosintelligence Reputation_center
https://talosintelligence.com/reputation_center
Check the reputation of a web site, you can search by IP address, domain name, or network owner for real-time threat data.