Finding a great domain name for your startup is no easy task, either you search for unique one or buy an existing one from the likes of Sedo o Flippa. Below are a list of my favorites: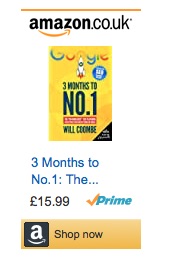 Free Tools for finding a great domain name
Namelix
Using artificial intelligence you can generate unique business/domain names and check their domain availability instantly, just click the [GENERATE NAMES] button on the homepage and a list of ideas appears. The list also tells the user if the all important .com extension is available and allows you to buy the domain straight away. By clicking the [Generate] button logo on the right you can use the advanced filter to:
Choose  domain availability (No preference, only .com or .net).
Choose the name type with random letters or names made out of words
See if the domain is available
Filter shorter names or with keywords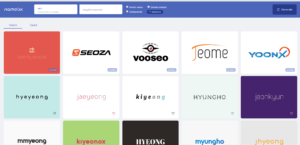 Impossibility
Great domain generator tool, enter a keyword that relates to your upcoming business niche and this great little tool will combine it with carefully selected list of nouns, verbs, and adjectives. The domain tool then searches for unregistered .com domain names. You can literally find domain names which are impossible to find any other way.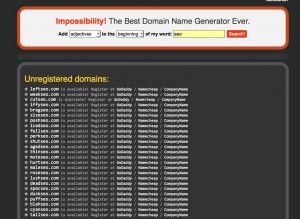 Domainnametool
www.domainnametool.com
You type in a keyword and it will list domain names that were available in various different formats. It shows you various TLD's like .com, .net, .org, .biz, .us & .info. If there is a green icon besides the domain name you can buy it through Godaddy domain name service. You can also check the WHOIS record.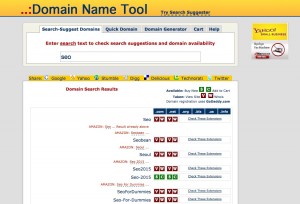 Shortdomainsearch
shortdomainsearch.com
This tool searches and produces a list of short, available single-word domain names. The list is automatically updated every 10 minutes. The list includes a vast array of TLD's to choose from, you can filter with the following extensions: .bz .cc .co. .eu .io .me .nu .tv .us .biz .xys .link
In the screenshot below I typed the letter y and the tool returned these domains still free to buy:
yorker.bz yorker.cc yorker.io yorker.link yorker.nu yorker.xyz.