I thought I would list the top tools for checking your back-links (inbound) towards your site. With the Google penguin update, checking your back-links on a regular basis is a must.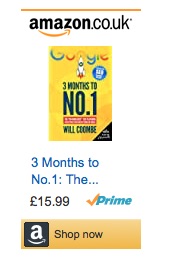 Majestic SEO Explorer Tool
Maybe one of the most comprehensive of public available data. I recommend registering for free to make the most out of this tool. For your own domain or ones you control you can create advanced reports with a larger amount of data.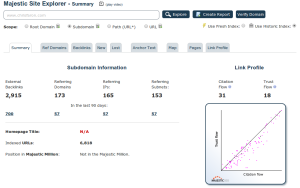 Webmeup SEO backlink tool
http://webmeup.com/tools/backlinks.html
From the makers of WebMeUp (all-in-one toolkit) SEO software, the database is currently in Beta and is currently crawling around a mouth watering 1 million new web pages a day! They are hoping to become the largest database of website link data on the planet. The main features are Real-time index update, there own crawler and index (as in not purchased from third party providers), Data can be exported in CSV format to work with the data in a spreadsheet or be imported into another software for further analysis. Cost: free to check 1,000 links directly on their web page.
Columns of the report include: Title and URL of linking page, Link anchor text, if the link is No-follow o not and the date (I assume the last crawl date)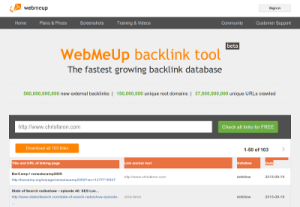 Open site explorer
http://www.opensiteexplorer.org/
Powered by the Mozscape index. 1 domain free per ip address (fire up your proxy or buy the paid version to check more. They also have an api which you can use to check via the shell/script. The homepage also lists the % amount of links no-followed, URL's employing the rel=canonical tag, number of links on the average page and external links per page on average.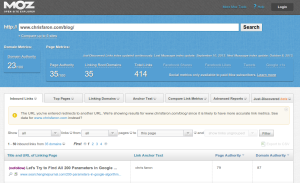 Ahrefs
Data updates every 15 minutes, friendly interface and rich data analysis. It shows you an historic graph to see how your profile has progressed through time. I especially like the "Anchors Cloud" which shows you a word cloud of you most important anchor texts.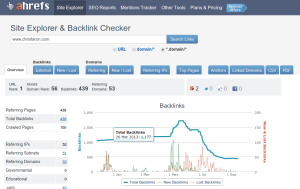 Smallseotools
https://smallseotools.com/backlink-checker/
Shows Page URL containing your backlinks, Site Google PR & Backlink Google page PR, anchor text and flag (blank for normal link, nofollow & noindex).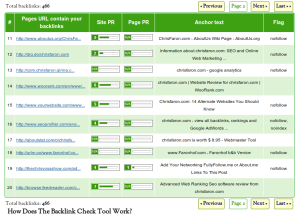 URL Profiler
Software based that can be installed on either a PC or Mac. This software can carry out many SEO tasks like content audits, link prospecting and penalty audits. Url profiler can also collect social and contact details to improve your outreach process. The cost of the software is on a sliding scale starting from £11.94 per month for 1 machine license up to £47.94 a month for the agency version with unlimited licenses.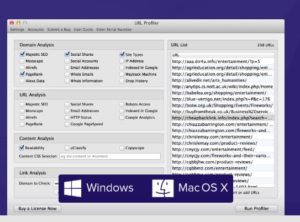 Backlink Prediction
Backlink Prediction will take a guess at predicting your future backlinks.
http://www.rapidsitecheck.com/tools/backlink-prediction/predict.php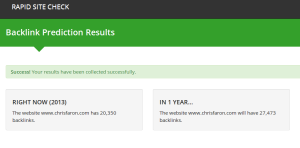 Monitorbacklinks.com
http://monitorbacklinks.com/seo-tools/free-backlink-checker
Free and trial accounts are limited to check 2 domains / week.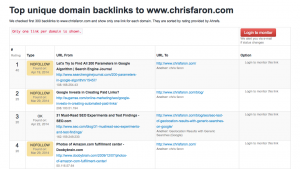 Linkody
Linkody is a cloud based link monitoring / management online tool that checks your backlinks every single day and sends you link status reports via email. You can also import your links directly from a CSV or MS Excel format. Linkody provides many metrics like page and domain authority and link analytics.
Siteexplorer.info
Free BL checker which shows up to 1000 links (brings back memories of the now defunct Yahoo Site Explorer). Detailed Backlink Information includes your total unique back-links divided by dedicated ip addresses and subnets, total inbound links divided by; number of home page links, no-follows and text links. The tool also tells you the number of inbound links lost in past 30 days. Also you can see your links divided by Top Level Domains:.COM & country specific TLD's, Most Linked Countries, Most Linked Keyword anchors. These last 3 elements are also shown in a graph format as well (even if they are a little retro looking).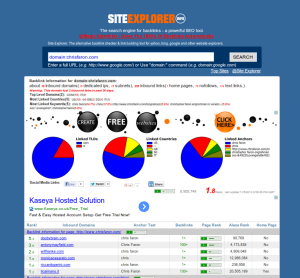 Rank Signals
Rank signals is still in Beta but is offers for free a list of your back-links showing Title and URL of Linking Page, Link Anchor Text and Google Page rank. It doesn't look like you can order the list in anyway or export the data. You can also sign up to get early access to new features.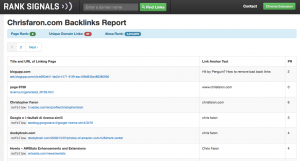 Monitorbacklinks
Check your bad backlinks and your competitors good backlinks, this tool although is a paid tool can be used for free to see the first … backlinks. The tool shows you vital SEO data like: Google PageRank (not likely needed in the future thought), Nofollow Checker, Alexa Rank (more for traffic trend of the site), external Link count, MozRank and social shares. There is also an "Easy Link Management" tool to manage your link data under one roof.
Pricing: starting from $25 month to check 500 unique links, monitor 1 domain, 2 competitors / domain and monitor 50 keywords.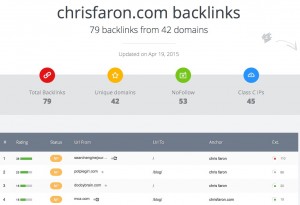 Bulk Moz Link Checker
Online tool retrieves Moz.com domain authority data in bulk form, just past your URL's one per line. You can check 2000 links a month and up to 100 a time. Also there are 3 other useful tools: Bulk Social Checker, Rank Tracking & Tweet Finder.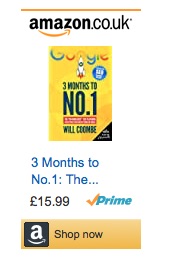 Openlinkprofiler
Analyze fresh backlinks of any website, that has been active within the last 90 days. Get an in-depth analysis of the freshest live backlinks. link filtering, Link Disinfection tool, link alerts. Links updated daily. They rate each website with a Link Influence Score (LIS) to show you the strongest pages (quality and number of backlinks). You can export up to 200,000 backlinks per domain for batch analysis and custom reports.
Linkody
http://www.linkody.com/en/seo-tools/free-backlink-checker
SEO back-link tool to check 2 domains per week. URL, anchor text data, rel attribute, and discovery dates.
Cost: Free & premium accounts
linkdelete.com
Manual backlink removal service will help you remove bad links & recover from a Google penalty. If you sign up for the free service, then the tool with give you the following information:
A Penalty risk score
Estimated number of bad links
Top anchor text found


Detailed
Backlink Analysis for Links That Drive Traffic. This free tool helps you find the best link and traffic sources that you can actually use rather than relying on a massive list of backlinks.
Backlinks Checker Tool
https://www.alreadycoded.com/seo-tools/backlinks-checker-tool.html
This paid tool allows to check external links pointing to your website. It provides the information about the domain as well. The data can be exported to Excel format.