This post is going to be a continuous work in progress, in it I'm hoping to create a ongoing list of the best search engine optimization (SEO) analysis tools….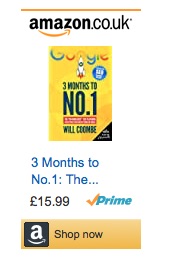 Traffic overview tools
Similarweb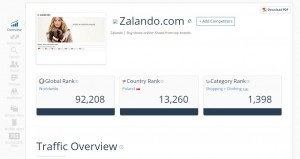 Similarweb measures many websites and mobile app's over a certain amount (usually more than a couple of thousand UV's (unique visitors). Similarweb reveals the complete picture and provides many insights of use to both marketers and SEO analysts. they currently have data on 3 million mobile apps and 80 million websites.
Their data is mainly sourced from:
a) A panel of over 100 million monitored devices.
b) Their own web crawler that scan public websites.
c) Local internet service providers (ISPs) located in many different countries.
d) Other direct measurement sources from websites and apps that are connected directly to them
On the screen overview dashboard you can see the following datapoints:
Global & country rank:Traffic rank of the site, as compared to all other sites in the world
Category rank: an industry category ranking to compare with other sites in the same sector.
Traffic overview: Estimated total monthly visits for the last 6 months (The free version only shows you Desktop only visits).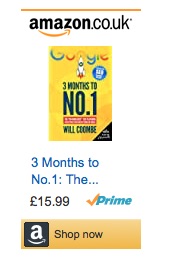 Engagement data: Calculated per visitor, this shows you a) Average time on site b) average number of pages visited b) Bounce rate in % terms.
Traffic by countries: Here there is an interactive map and next to it, the top five countries of where the majority of the traffic is coming from.
Traffic sources: See the main sources of traffic divided into 5 channels:
a) Directly typed by the user, bookmarked and any other traffic where the referral data could not be tracked (like email links or links inside mobile apps).
b) Referral traffic from third party sites like a forum or blog post.
c) Search traffic including both SEA (search engine advertising) and SEO via organic results.
d) Social media including Facebook, Twitter, Reddit, Linkedin, Youtube & vk.com
e) E-Mail links arriving from a DEM campaign
f) Display advertising including re-marketing via the major networks like Doubleclick.
Audience Interests: See what the site's audience are interested in (the data is divided up into various categories).
Pricing: Free for the data listed above and prices starting from USD $199 per month to see mobile data and access for 1 User, 6 Months of Data, 30 Results Per Website Metric, more complete traffic Sources list, engagement metrics and full website comparison.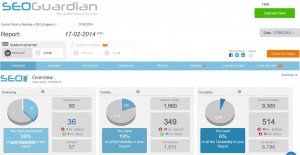 SEO & SEM analytics software as a service (SaaS). First you need to create a new report with the country of the searches you are interested in monitoring, whether you are interested in only desktop searches or mobile as well, keywords to analysis (you can add just one keyword and the URL of the page and the tool will suggest other keywords based on the keywords present on the page). After creating your report you can view many metrics on our your site is performing in organic search like:
% of keywords positioned in the top 20 results.

Domain Positioning breakdown in four stages, there is also a trend graph with competitor comparison.

Visibility score: awarded according to position (with 1st place obtaining the most)

.

Click-ability (

Measures progressively the options for receiving a click, thereby the top positions in the search results are more important than the lower positions)

Ranking SEO: Top week. List of the best domains ordered by click-ability
Landing Pages: Pages in the domain that are listed in the search engine for a particular keyword search
Cost: Free for 1 report with 100 keywords. For each 100 extra keywords the cost is 10 Euros per month.
Semrush
http://www.semrush.com/
Serpstat
https://serpstat.com/
Wikipedia article traffic statistics
Not strictly a SEO analysis tool but this free tool from Wikipedia shows you how much traffic each particular article is receiving, by cross referencing the average search position of each page can give you an idea of the traffic you could receive for that topic.
Impactana
http://www.impactana.com/
Buzzsumo
Deep crawl
DeepCrawl is a server-based site crawler solution, removing all the limitations of desktop software which often run out of memory when crawling large sites (usually over 100,000 pages in my experience) it can run at any time, and the size of your computer's memory doesn't matter.
Crawls can be started any time and run concurrently without any restrictions. The online interface makes it easy to run crawls and access your reports anywhere in the world. The entire service is run in the cloud and accessible through the web interface and via an API if you have another application where you need to to import the data into. Reports can easily be shared across teams working from completely different locations. There are 3 ways of sharing reports: Centralised Issues List, Shared links and Excel spreadsheets in .tsv format. Finally you can generate a white label report published within your subdomain, ideal for web agencies are SEO consultants.
Pricing is on a monthly basis which can be canceled at any time. Prices start at $80 / month for 1 user; 100,000 URLS, unlimited crawls, 5 domains and 5 scheduled crawls.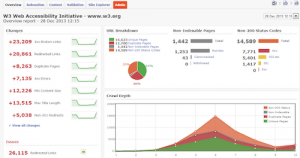 Keywordtool.io
Free keyword tool that could be considered an alternative to Google Keyword Planner And Ubersuggest. The keywordtool.io web site uses Google Autocomplete (how often users were searching for a particular term in the past) or Bing to generate hundreds of relevant long-tail keywords. It generates up to 750+ suggestions for every keyword.
To generate a comprehensive list keyword suggestions, the Tool prepends and appends the term, that you specify with different letters and numbers. It also allows you to choose a specific Google domain (currently 192 Google domains) and languages (83 languages available) combination.
There is also a iOS app title research tool (shown in the screenshot below) that pulls App Store keyword suggestions from the autocomplete.
The only downside is you do not have data on how much these keywords are searched for, so I advise you to export this list and import the list into another tool like Google keyword planner.
COST: Free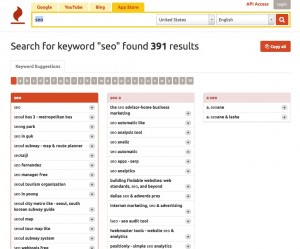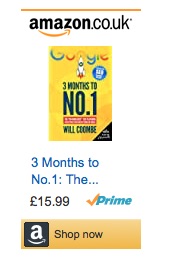 FreeSEOtool
Free SEO analysis tool offering detailed, targeted and actionable, search engine optimization advice for both the novice and the Intermediate SEO analyst. The results are pulled from up to 15 other search engine optimization tools. Just enter your keyword and you are good to go.
Pricing: free!
Seotimer
This simple web based tool (or using a Chrome extension) check the following on-page elements:
HTML header: Page title, meta description & keywords, meta robots and text encoding.
Body content: Total words & characters, Hx headers, amount of words in bold, images without the ALT tags, number of i frames present.
Internal and External Links: amount of followed & no-followed internal and external Links. It also checks if a robots.txt & sitemap.xml are present.
Social Media Signals: The amount of Facebook Likes and shares and also how many Google +1 the page as received.
HTTP Headers: Checks the http headers of the page to make sure that your server is showing the correct header (should be HTTP/1.1 200 OK).
Domain and Server: IP Address of your website, Name Servers of the domain, Server Geo-location showing the country & city location of your server.
After the SEO report as been generated  is will give you a list of things you should improve. There is also the possibility to export this data as a SEO report in pdf format.
Notes on usage: If you have a redirect (like on this site to my blog section), then you must enter the redirected URL or it will give you an error. Lastly the report for my site said I had no sitemap.xml present when in-fact I do. This is problably because I'm using Yoast WordPress SEO plugin which generates your XML Sitemap at /sitemap_index.xml rather than the standard URL: /sitemap.xml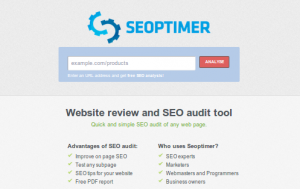 Whoisology
whoisology.com
Ok not strictly a SEO tool but can used to do Whois Lookups and find the deep connections between domain names & if their owners. This can be useful to find out if various sites are part of the same network. You can search by either domain name or email address.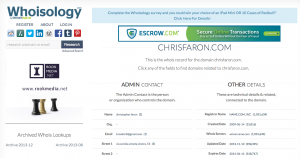 SamID.net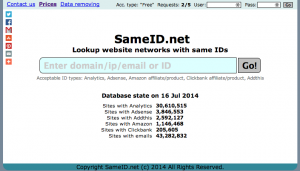 I love this tool! With this little baby you can find out website networks by entering in the search box a domain/ip address of the server to see if a particular site is part of a blog network or to check if the webmaster has other poor quality sites. The tool checks various ID's like Analytics, Adsense, Amazon affiliate/product, Clickbank affiliate/product, Addthis, etc. The online tool currently has other 40 million sites in its database.
Groovymeta
Free tool to speed up the creation of HTML metadata for websites, including title tags, meta description and social tags.
SuggestMrx
www.merlinox.com/suggest/index-en.php
Developed by Richard Mares, this tool gives you Google Suggest tips with Google Trends chart with a specific search
sim64 Google Author Rank checker
Find Your Google Author Rank.