On 27 of Feb 2012 Google published on their Inside Search Blog, 40 changes made ​​to their algorithm when ranking various results. Among these, two concerned the geolocation results or local results:
"Improvements to ranking for local search results. [launch codename "Venice"] This improvement improves the triggering of Local Universal results by relying more on the ranking of our main search results as a signal.
Improved local results. We launched a new system to find results from a user's city more reliably. Now we're better able to detect when both queries and documents are local to the user."
From this, a well known SEO Specialist Riccardo Perini thought of the idea of doing a little test to try to understand what percentages of geolocation results or "geo" targeted results (detected via the users IP address) were being shown when searching for generic keywords (not usually connected with local results) . The aim was also to see if somehow there was a constant for these customizations.
It was decided to do the test using the general search "hotel". "hotels" was chosen instead of "restaurant" as the search [hotel] did not show any results for UniversalSearch, or Google Places.
Riccardo then contacted around 100 people and asked them for help with the test, the test procedure was as follows:
"Using the Chrome browser. Go to Tools > Options > Under the Hood > Clear browsing data (all)
Then open an incognito window.
Now go www.google.it (not logged in), and search for the keyword "hotel" (do a single search, so that there is nothing in your browsers history).
Take a screenshot of the entire first page of results.
If possible also note the IP address from which you have done the research."
Data collection was from the 4th to the 14 March 2012 and included 70 screenshots.
The sample is not very large, and the research was done only for a keyword, so the results are to be "taken with a pinch of salt." He would of liked to have collected more data, both in terms of different IP's and different keywords. Also it would be interesting to have the SERPs (results) for this research shown from a few months ago, in order to analyze the changes over time.
However, even with the small sample it is not possible to define an exact rule, here is the data collected.
Total research carried out by different IP: 70
SERP results without any Geo-localized results based on the users location (detected by Google): 21
Among them:
SERP standard (*): 13
SERP results Geo-localized but not different from the standard SERP: 8 (**)
SERP results Geo-localized based on location detected by Google: 49
Among them:
SERP with 1 Geo-localized result: 16
SERP with 2 Geo-localized results: 32
SERP with 3 Geo-localized results: 1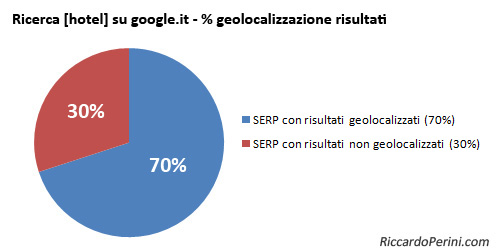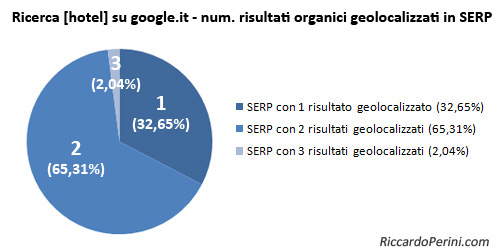 In 70% of the cases analyzed from the Google SERP the results showed Geo-localized ones customized by location detected by Google. Among these 65.31% of cases 2 results out of 10 were customized , in 32.65% cases only 1 result in 10 were customized and only 2.04% of the cases were 3 results customized.
In none of these analyzed SERP's were present Universal Search boxes, Google Places Maps or single G. Places boxes.
* The standard SERP for the search [hotel] was composed of these 10 results:
1. it.hotels.com
2. www.venere.com/it/
3. www.tripadvisor.it
4. www.booking.com/index.it.html
5. www.expedia.it/Hotel
6. www.it.lastminute.com/site/viaggi/hotels/
7. www.edreams.it/hotel/
8. www.italyhotels.it/
9. www.italysquare.com/
10. www.italy-hotels-reservation.it/
[Note: this "standard SERP" result was the same one that was displayed for the duration of the test by setting the location as "Italy"]
** This was the "normal" results, having collected the data on different days. With any freshness results taken out of the equation.
Here are some SERP examples of customized results (Results marked with arrows are customized results based on the location of the user):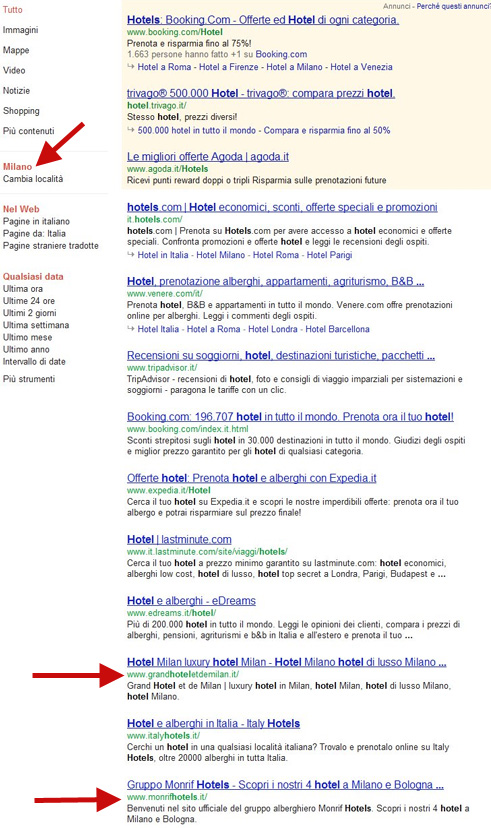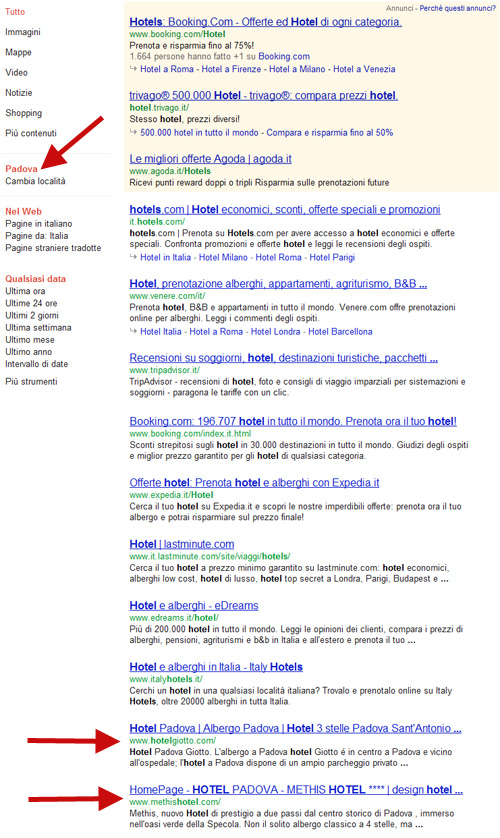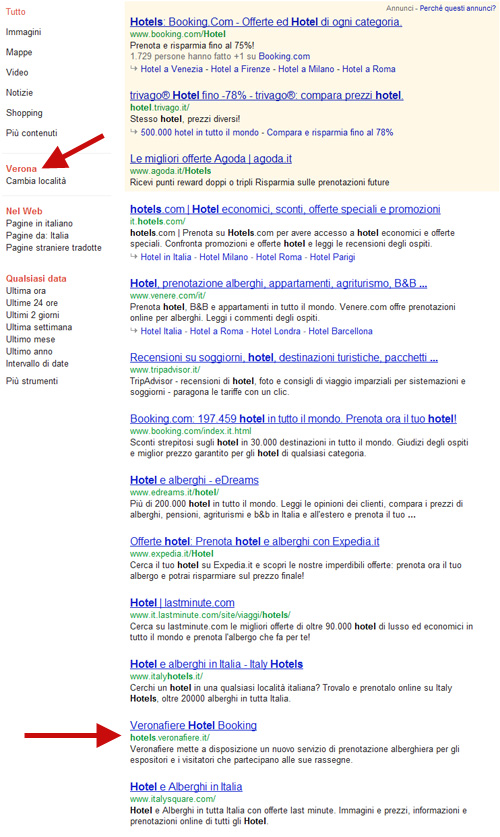 As a side note, I wonder if using the open source version of Chrome called Chromium would have produced the same outcome?
This Post has been translated with the kind permission of Riccardo Perini.